Artstation Followers and Views Promotion 2024 – Full Manual
I promote dozens of accounts a month on Artstation and I have a lot to tell you. I'm writing this content solely from a marketer's perspective to grow your Artstation account metrics – followers, comments, likes, views, in a minimum amount of time. That's my main job.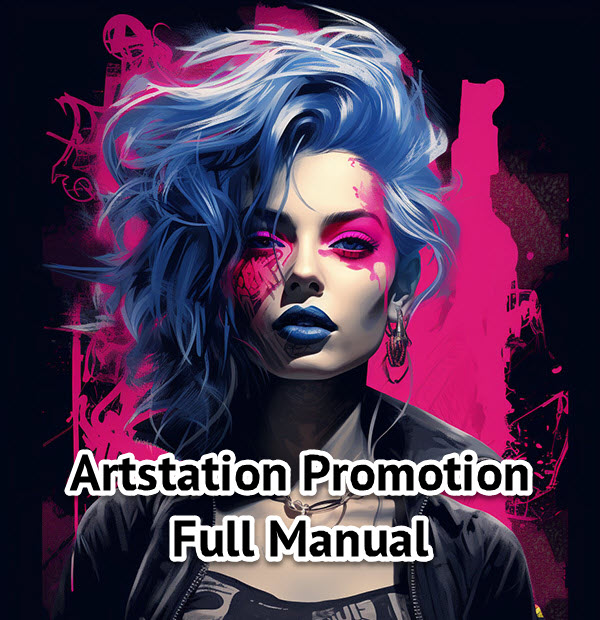 Define Keywords for Promotion
In order for you to get traffic not only from your friends-followers, but also from search engines and from the internal artstation search, you need to pick the top 3-5 keywords that you will focus on when promoting.
Artstation Top Traffic Keywords
(it might take a couple of seconds to load the tables)
Artstation Top Artists Traffic
Study this table and take an example from the most famous and visited artists. Explore their profile and artwork description. Research the tags they add to their artworks. Read their responses to comments. And adopt whatever seems necessary to you.
Artstation search is a very cool tool. Type in the queries you have chosen to promote and see what titles and descriptions the best concept and 3D artists in the world have.
https://www.artstation.com/search/artists?sort_by=followers&query=art
Read Best Artists and Official Recommendations
It is important not just to read these materials and selectively follow them. It is important to study and follow all the advice in these materials carefully.
A typical mistake 95% of all artists on artstation make is that they only follow part of the guidelines. And this is the main mistake, such partial promotion does not work.
Once you have decided on the keywords you will be promoting, your goal is to maximize their use everywhere within the Artstation.
Use in artwork descriptions, profile descriptions, tags, blog articles – everywhere.

Complete Everything You Can
Make sure that your profile is complete, add your skills and software. You fill out the section about yourself roughly like this:

Optimize your ArtStation profile: Ensure that your ArtStation profile is complete and visually appealing. Use a professional profile picture, write a compelling bio, and include relevant information about yourself and your artistic style.
Country Matters
If you have some big financially prosperous country listed in your profile, your profile will be followed 10-15% more often. Most artists on Artstation want to find a high-paying job in a large foreign company and increase their network through followers.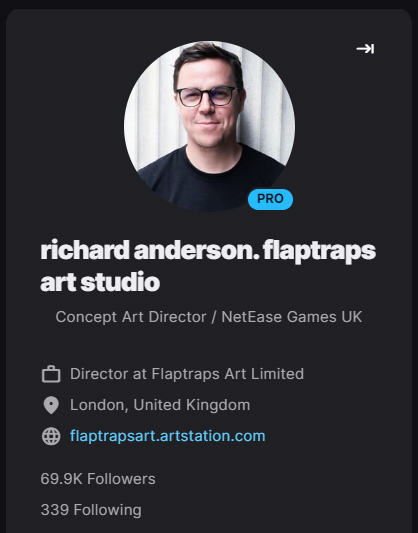 Therefore, if your goal is to maximize the number of followers and activity of your account – write some large countries, such as the United States, Germany, United Kingdom even if you do not live in these countries. No one needs your honesty when you are an unknown artist with no money.
Don't forget Tags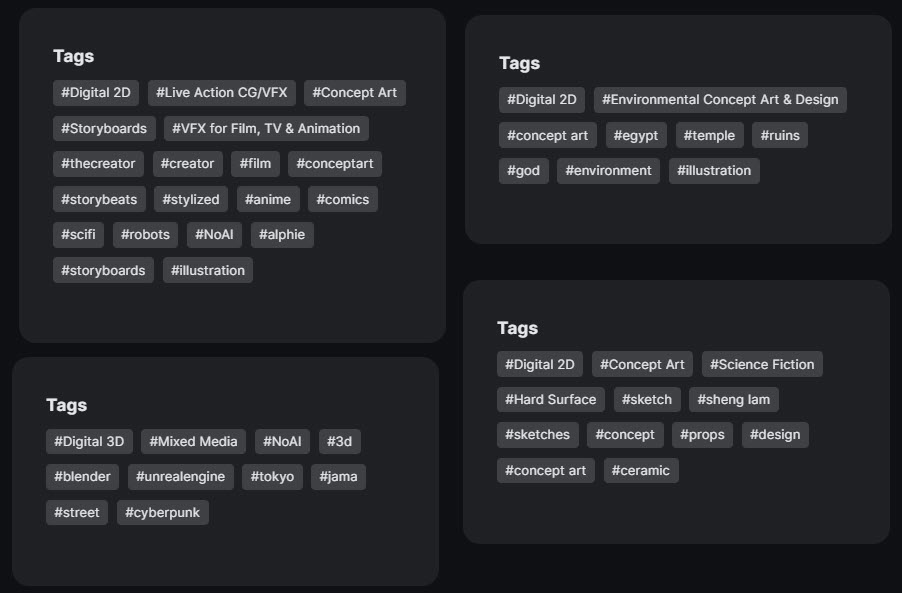 The right tags combined with the right keywords will give you a more than 25% increase in views and follower count. Where to get tags with more traffic and how to make a list of tags read in the article Popular Artstation Hashtags.
Higher position – Higher growth
The cooler your profile post sounds – the more followers and views you'll have. No one wants to sign up for a no-name aspiring loner with no connections and no experience.
What kind of posts do you need to write to grow your account:
Concept Art Director
Art studio
Director of Art Department
Founder
Senior Art Director
Lead of Concept Art Department
Senior Graphic Designer
Art Outsourcing Studio
Senior Executive Graphic Designer
Game Outsource Studio
What posts to write so you never have follower, views and likes:
Art Student
Freelance Artist
Midjourney AI Artist
Artificial Intelligence
Art Enthusiast
Game Art Graduate
Concept Artist
Traditional Art
Animation Student
2D Artist
Of course if you're a beginner, putting up a position like Art Director or Founder isn't really fair. But I'm not talking about honesty in this article, I'm talking about results.
It Takes Time
Artstation algorithms and search engines index and take into account your profile changes for a very long time. Don't expect quick results, everything takes a long time.